Fort Worth Emergency Kit
1/21/2019 (Permalink)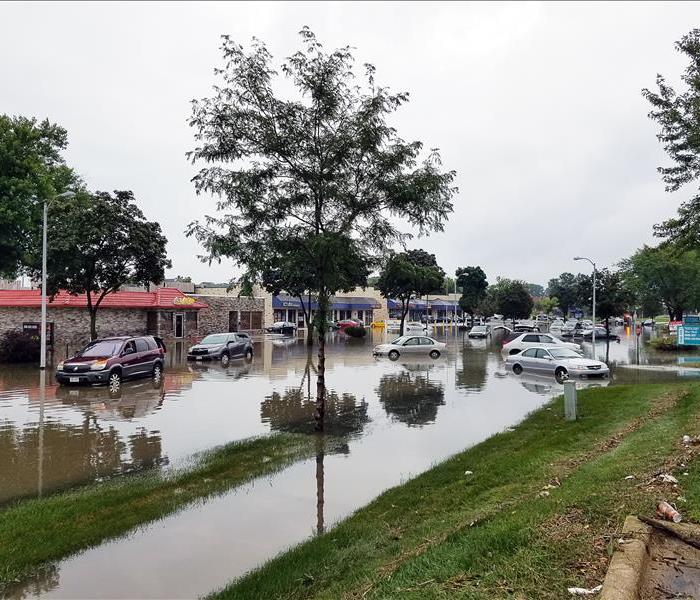 Flash Floods and heavy rains can cause huge issues in Fort Worth, Texas. Always be prepared with your emergency kit!
In Fort Worth, Texas, weather can change at the drop of a hat. Keeping an emergency kit in your home, car, and/or business can help you get through the disaster unscathed. Fort Worth sees all kinds of disasters from floods, to ice storms, to tornadoes. Check the list below to see what you should include in your kit.
Water: One gallon of water for each person per day. This should be enough for both drinking and hygiene such as brushing your teeth. 3 Days is a good amount to be prepared for.
Food: Make sure you are packing non-perishable food items. Again, a 3-day supply is ideal. Make sure you are storing these items properly… Nothing takes a situation from bad to worse quite like food poisoning.
Flashlight: A powerful flashlight can be a lifesaver if your power is knocked out during a flood in Fort Worth. Make sure you also pack extra batteries if your light is not a hand crank flashlight.
Battery-Operated Radio: Cell phones are a great tool for receiving information quickly, but if the power goes out, your cell phone is likely to die as well. Radios are one of the best ways to make sure you are up to date on all emergency information in Fort Worth, Texas. Be sure to pack extra batteries for your radio as well.
First Aid Kit: A first aid kit can seem like a lifesaver, even when you need something as simple as a Band-Aid. These kits are relatively easy to assemble yourself, or you can order one on Amazon, or just pick one up from your local Fort Worth Walmart.
Tools: A simple toolkit is something every household should have. This way you can take care of some issues yourself while you wait for the flood water to recede or the ice to melt so that you can get a professional in to tackle the problem.
Medications: Always be sure you have your prescriptions on hand. It is also a good idea to pack basic medicine for headaches etc. as well.
Baby and/or Pet Supplies: Make sure you have everything you need for each member of your family. Diapers, formula, pet food, and anything else you need to make sure everyone is taken care of.
Cash: Cards don't always work in an emergency. Cash is a surefire way to make sure you can pay for the things you need in Fort Worth.
Important Documents: Depending on the situation, you may want to make sure that you have birth certificates, social security cards, insurance cards, etc. with you.
Sleeping Bags/Blankets: If the power goes out, you will not be able to regulate the temperature in your home or office, and if you are in your vehicle, you may be stranded somewhere. Keeping a sleeping bag or blankets in your car can help keep you warm even if it is cold and gross in Fort Worth.
Change of Clothes: A change of clothes can feel like a life saver if you have gotten the clothes you are wearing wet or soiled in some other way. Pack a few extra shirt and undergarments if you know you will be traveling or away from home in potentially hazardous conditions. Always remember to bring a jacket as well, Fort Worth may be hot most of the time, but it can get chilly when the sun goes down.